The Witcher wiki now has a light themed alternative for the wiki skin. To check it out, go to Special:Preferences, then choose the "Appearance" tab and click on the radio button next to "Hydra".
Wreck of the Eyla Tarn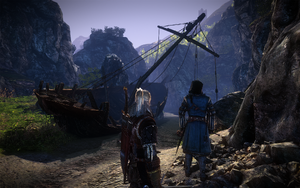 The wreck of the Eyla Tarn is located in the ravines southwest of the old quarry outside Vergen.
It lies near Baltimore's workshop, far behind troll's lair. In the wreck, there is a chest containing Journal from the Eyla Tarn, Vran armor enhancement and some crafting components. Finding the journal will advance the Mystic River quest.
Iorveth's path: You can always find the shipwreck, unlike Roche's path, there is no mist blocking access.
Roche's path: You can find the wreck, and she-troll during your trip to Vergen during The Siege of Vergen.