The Witcher wiki now has a light themed alternative for the wiki skin. To check it out, go to Special:Preferences, then choose the "Appearance" tab and click on the radio button next to "Hydra".
As part of the Unified Community Platform project, your wiki will be migrated to the new platform in the next few weeks. Read more here.
Torque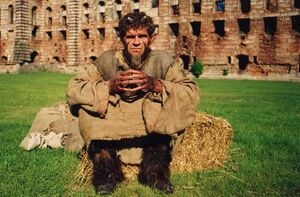 Torque is a sylvan who lived in the fields of Lower Posada in Dol Blathanna. He tried to help the elves who lived in the Blue Mountains, and had an agreement with them: grain and corn and other agricultural goods, without killing humans. He appeared in the short story "The Edge of the World".
"
"The creature was about half a rod tall with bulging eyes and a goat's horns and beard. The mouth, a soft, busy slit, also brought a chewing goat to mind. Its nether regions were covered with long, thick, dark-red hair right down to the cleft hooves. The devil had a long tail ending in a brush-like tassel which wagged energetically."
"
The same story is retold in episode 7, "Dolina Kwiatów", of The Hexer TV series. He is portrayed by Lech Dyblik.