The Witcher wiki now has a light themed alternative for the wiki skin. To check it out, go to Special:Preferences, then choose the "Appearance" tab and click on the radio button next to "Hydra".
As part of the Unified Community Platform project, your wiki will be migrated to the new platform in the next few weeks. Read more here.
Stash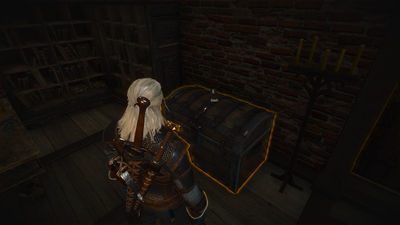 Stashes (storage chests) in The Witcher 3: Wild Hunt enable better management of loot and overencumbrance. Added in Patch 1.07, they can be found in select locations of the multi-region open world. As in previous games, stashes allow the player to place items in one "stash" location and retrieve them from another.
You can store weapons, armor and junk in your stash for safekeeping, confident they will not be stolen or otherwise disappear.
You can access your stash in a number of places throughout the world/ Items stored in your stash in one location will be available in all other locations as well.