The Witcher wiki now has a light themed alternative for the wiki skin. To check it out, go to Special:Preferences, then choose the "Appearance" tab and click on the radio button next to "Hydra".
Rivia (city)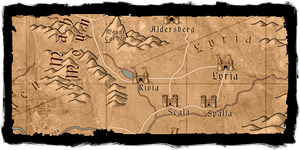 Rivia is one of the two cities for which the kingdom of Lyria and Rivia is named. It is the winter capital of the kingdom.

This coat of arms was designed by our local heraldry and Witcher expert Mboro based on the descriptions in the novels.
Queen Meve's castle
Army barracks and royal warehouses
Wiązowo - non-human district, bounded by the lake, the castle, and the city walls
Wirsing's tavern aka "The Witcher's Sword"
Market and Exchange