The Witcher wiki now has a light themed alternative for the wiki skin. To check it out, go to Special:Preferences, then choose the "Appearance" tab and click on the radio button next to "Hydra".
As part of the Unified Community Platform project, your wiki will be migrated to the new platform in the next few weeks. Read more here.
Dexterity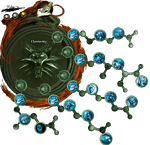 The Dexterity attribute governs not only physical dexterity, but is also related to fast style swordsmanship. There are five basic levels, each with a selection of attributes. The full Dexterity attribute tree can be found here or by clicking on the tree icon to the right.

Predator

Attack + 50%
Dodge + 50%
Only active from midnight until dawn
Requires consumption of a mutagen

Deflect Arrows

Geralt gains ability to deflect arrows


Repel


Fistfight
| | | | |
| --- | --- | --- | --- |
| Dexterity (level 3) | Resistance to Blinding | Agility | Limit Incineration |
| | | | |
| --- | --- | --- | --- |
| Dexterity (level 4) | | Feint | Incineration Resistance |

Dexterity (level 5)


Vigilance

Dodge + 50%
Works only when Geralt is attacked from behind