The Witcher wiki now has a light themed alternative for the wiki skin. To check it out, go to Special:Preferences, then choose the "Appearance" tab and click on the radio button next to "Hydra".
Mottle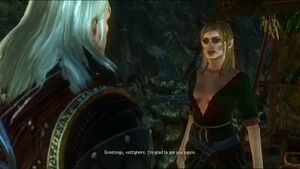 Mottle is one of the elven women that can be saved in Flotsam during Chapter I if Geralt chooses to follow Iorveth to Vergen. If Geralt saves her, she will want to reward him in Chapter II. She also gives Geralt the Key to the Tunnel of the Founders after receiving his "reward".
She can be found just outside the town of Vergen where she sells herbs and crafting components. Of course, if Geralt does not save the women from the tower or sides with Vernon Roche, she is nowhere to be found.