Loc Muinne amphitheatre
Expansion required

This article is too short to provide more than rudimentary information about the subject. You can help Witcher Wiki by expanding it.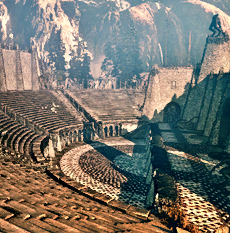 Loc Muinne Amphitheatre is a location in Loc Muinne in The Witcher 2: Assassins of Kings.
The amphitheatre in Loc Muinne was once the jewel of the city. Even stripped of its former trappings and ruined by time, it remained impressive. The elves had used it as a theatre, a venue where troubadours performed, perhaps even as an arena for gladiatorial combat. During the memorable events recounted herein, it served as the site for a summit of mages and monarchs.