The Witcher wiki now has a light themed alternative for the wiki skin. To check it out, go to Special:Preferences, then choose the "Appearance" tab and click on the radio button next to "Hydra".
Kingslayers' hideout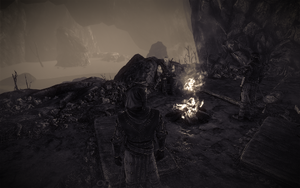 The Kingslayers' hideout is located in the ravines to the south of the Kaedweni camp in Aedirn. Geralt first sees the hideout during the vision induced by Dethmold's ritual. Later, he finds Serrit there, near death.