The Witcher wiki now has a light themed alternative for the wiki skin. To check it out, go to Special:Preferences, then choose the "Appearance" tab and click on the radio button next to "Hydra".
Istredd
Istredd was a well-respected sorcerer in the city of Aedd Gynvael with a keen interest in archaeology. As a young apprentice, he studied under Roedskilde. Yennefer worked with him then and again.
He was one of Yennefer's long-time lovers. He challenged Geralt to a duel for the right to exclusive access to Yennefer's affections.
Significant plot details end here.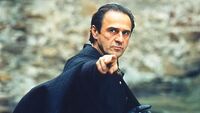 Istredd proposed to Yennefer while she was with Geralt in Aedd Gynvael. He promised her stability, a home, a future, and the child(ren) she's longed for. However, Yennefer left the city even before Geralt, and Istredd ended up helping Geralt when he faced Dermot Marranga and his men.
Played by Bronisław Wrocławski.
In the Netflix-Adaptation the sorcerer is portrayed by Royce Pierreson.
Expansion required

This article is too short to provide more than rudimentary information about the subject. You can help Witcher Wiki by expanding it.