The Witcher wiki now has a light themed alternative for the wiki skin. To check it out, go to Special:Preferences, then choose the "Appearance" tab and click on the radio button next to "Hydra".
Igor Vivaldi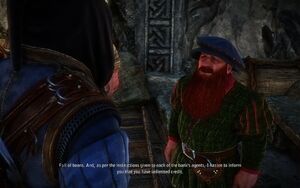 Igor Vivaldi is an employee of Vivaldi Bank, checking out the local mines for profitability, whom Geralt meets in the city of Vergen. Igor is authorized to give Geralt unlimited credit, but with limited means presently, he can only spare 200
. With some Persuasion Geralt can up this sum to 300
.