The Witcher wiki now has a light themed alternative for the wiki skin. To check it out, go to Special:Preferences, then choose the "Appearance" tab and click on the radio button next to "Hydra".
Igni (character development)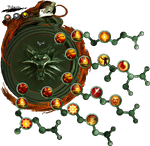 The Igni attribute governs the use of the sign. There are five basic levels, numbered one through five, each with a selection of attributes, and five levels of special attack (Student, Apprentice, Specialist, Expert, and Master). The full Igni attribute tree can be found here or by clicking on the tree icon to the right.

Student

Attack from a distance
Right-click and hold to powerup Sign

Apprentice

Attack from a distance
Right-click and hold to powerup Sign
Requires Student

Wall of Fire


Specialist

Attack from a distance
Right-click and hold to powerup Sign
Requires Apprentice

Inferno


Expert

Attack from a distance
Right-click and hold to powerup Sign
Requires Specialist

Master

Attack from a distance
Right-click and hold to powerup Sign
Requires Expert