The Witcher wiki now has a light themed alternative for the wiki skin. To check it out, go to Special:Preferences, then choose the "Appearance" tab and click on the radio button next to "Hydra".
House of Everec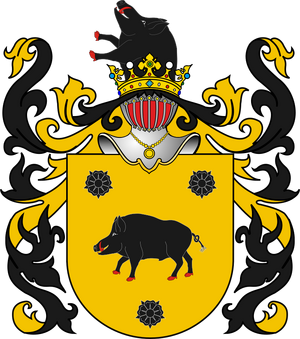 The House of Everec is a noble Redanian family founded by Ratibor von Everec. Recent decades have seen the von Everecs fall upon hard times, their wealth and status having steadily and gravely declined.
They own a large estate east of Novigrad.
"
The dynasty's founder, Ratibor von Everec, was knighted by King Vridank the Elf for feats of exceptional wartime prowess in the Gulf of Praxeda theatre. Dynastic estate: Oxenfurt region, Von Everec Manor, surrounded by lush gardens famed for incorporating a monumental family crypt. Dynastic beast: Wild Boar. Notable representatives: Bohumil von Everec - Castellan of Roggeveen Castle, Honoratina von Everec - patroness of the artists of Oxenfurt, Kestatis von Everec - Field Hetman of the Crown. Recent decades have seen the von Everecs fall upon hard times, their wealth and status having steadily and gravely declined.
"
― Famous Redanian Dynasties