Gar

Gar (Polish: Niszczuka) is one of the Crinfrid Reavers, a group of mercenaries hired by king Niedamir to take part in the hunt for a dragon outside Barefield in "The Bounds of Reason", a short story in the Sword of Destiny collection by Andrzej Sapkowski. He also has a preference for wielding a large two-handed sword. The other group members include:
The Crinfrid Reavers appear in the episode "Smok" of the series, where the role of Niszczuka is portrayed by Andrzej Bryg.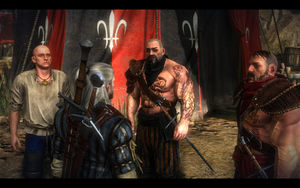 In The Witcher 2, he is called "Desbrut", although the original Polish name translates to a type of fish, garpike to be specific.