The Witcher wiki now has a light themed alternative for the wiki skin. To check it out, go to Special:Preferences, then choose the "Appearance" tab and click on the radio button next to "Hydra".
As part of the Unified Community Platform project, your wiki will be migrated to the new platform in the next few weeks. Read more here.
Elven calendar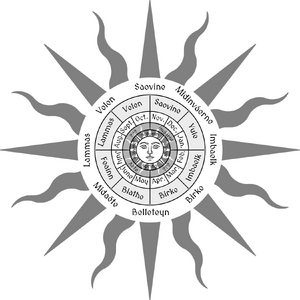 The elven calendar divides the year into eight parts, collectively called savaeds; most of them share the name with the holiday that starts them.
The elven New Year is celebrated on Saovine.
There is four holidays which date is connected with the activity of the Sun.
Four other holidays takes place during a new moons.
These conversion tables are based on the assumption that a year in the Witcher world is 365/366 days long and that the astrological and mythological phenomena happen at about the same time of the year as in the northern hemisphere of our own world.
As is common with calendars, astrological and mythological holidays have been moved to a fixed date.
| Original | Info | Converted | Duration |
| --- | --- | --- | --- |
| Saovine | Holiday | 1 November | 1 day |
| Saovine | 1st Savaed | 1 November – 20 December | 50 days |
| Midinváerne | Holiday | 21 December | 1 day |
| Yule | 2nd Savaed | 21 December – 1 February | 43 days |
| Imbaelk | Holiday | 2 February | 1 day |
| Imbaelk | 3rd Savaed | 2 February – 20 March | 47 days |
| Birke | Holiday | 21 March | 1 day |
| Birke | 4th Savaed | 21 March – 30 April | 41 days |
| Belleteyn | Holiday | 1 May | 1 day |
| Blathe | 5th Savaed | 1 May – 20 June | 51 days |
| Midaëte | Holiday | 21 June | 1 day |
| Feainn | 6th Savaed | 21 June – 31 July | 41 days |
| Lammas | Holiday | 1 August | 1 day |
| Lammas | 7th Savaed | 1 August – 22 September | 53 days |
| Velen | Holiday | 23 September | 1 day |
| Velen | 8th Savaed | 23 September – 31 October | 39 days |
| | Leap Day | 29 February | 1 day |
| Imbaelk | Leap Year, 3rd Savaed | 2 February – 20 March | 48 days |
| Original | Info | Converted | Duration |
| --- | --- | --- | --- |
| New Year | Holiday | 12 Yule | 1 day |
| January | 1st Month | 12 Yule – 42 Yule | 31 days |
| February | 2nd Month | 43 Yule – 27 Imbolc | 28 days |
| March | 3rd Month | 28 Imbaelk – 11 Birke | 31 days |
| April | 4th Month | 12 Birke – 41 Birke | 30 days |
| May | 5th Month | 01 Blathe – 31 Blathe | 31 days |
| June | 6th Month | 32 Blathe – 10 Feainn | 30 days |
| July | 7th Month | 11 Feainn – 41 Feainn | 31 days |
| August | 8th Month | 01 Lammas – 31 Lammas | 31 days |
| September | 9th Month | 32 Lammas – 08 Velen | 30 days |
| October | 10th Month | 09 Velen – 39 Velen | 31 days |
| November | 11th Month | 01 Saovine – 30 Saovine | 30 days |
| December | 12th Month | 31 Saovine – 11 Yule | 31 days |
| | Leap Day | 28 Yule | 1 day |
| February | Leap Year, 2nd Month | 43 Yule – 28 Imbaelk | 29 days |
| March | Leap Year, 3rd Month | 29 Imbaelk – 11 Birke | 31 days |