The Witcher wiki now has a light themed alternative for the wiki skin. To check it out, go to Special:Preferences, then choose the "Appearance" tab and click on the radio button next to "Hydra".
As part of the Unified Community Platform project, your wiki will be migrated to the new platform in the next few weeks. Read more here.
Ellander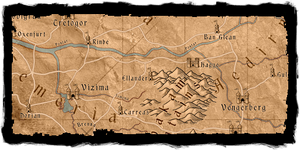 Ellander is a duchy and fiefdom of Temeria, located east of Vizima. It is ruled by the duke Hereward. It is here that the Temple of Melitele is located. Both Nenneke and Yennefer saw to Ciri's instruction there.
"
Here, in Pontar Valley, lies the duchy of Ellander.
"

The coat of arms for Ellander is never actually described in the books. This particular coat of arms was designed by our resident heraldry and Witcher expert Mboro. For a different take on the coat of arms, we have the Czech concept