The Witcher wiki now has a light themed alternative for the wiki skin. To check it out, go to Special:Preferences, then choose the "Appearance" tab and click on the radio button next to "Hydra".
Coccacidium
The Coccacidium is an unusually vicious and large archespore in the Swamp. It is particularly nasty if Geralt is not very experienced. Vincent Meis will pay handsomely for its head.
The coccacidium usually spawns in a few places preferentially, but the longer you manage to avoid it, the more likely it is to spawn, so after a while it really begins to feel like you are being chased.
Coccacidium is worth approximately 2000 XP (exactly 2000 XP at level 19, +5 XP per each level less than 19, so e.g. 2030 XP at level 13) on top of the quest reward XP for Bloodthirsty Vegetation.
Igni (level 3) or a Dragon's dream bomb work well.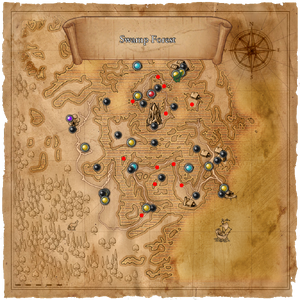 Significant plot details end here.