The Witcher wiki now has a light themed alternative for the wiki skin. To check it out, go to Special:Preferences, then choose the "Appearance" tab and click on the radio button next to "Hydra".
Clans of Skellige
Expansion required

This article is too short to provide more than rudimentary information about the subject. You can help Witcher Wiki by expanding it.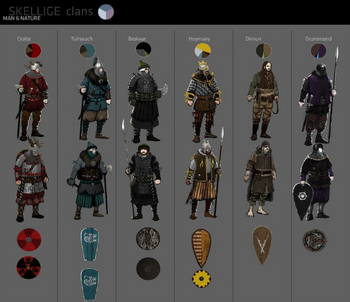 Clans are kinship groups among the Skelligan people, giving its members a sense of shared identity and descent. The heads of clans are called bonds[1]; bonds who lead more clans are called earl or jarl[1][2] (the title "jarl of Skellige" refers to the main commander of the Skelligan fleet[3]).
There are seven main clans of Skellige.