The Witcher wiki now has a light themed alternative for the wiki skin. To check it out, go to Special:Preferences, then choose the "Appearance" tab and click on the radio button next to "Hydra".
Better Icons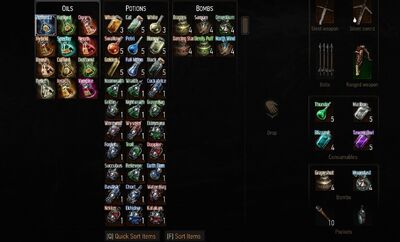 Better Icons is a mod for The Witcher 3: Wild Hunt. Oil, potion, bomb and decoction icons have their names written on them all the time.
Download selected version(s) and unpack it into the "...\The Witcher 3\Mods\" folder (if you do not have Mods folder - create it manually).